The existing apartment is part of a block of apartment building in the center of Athens with no architectural value and is characterized by its oblong form of inner dimensions 18.10m x 3.60m. The layout of the 60's wasted square meters in the entrance lobby, providing space for the creation of only one bedroom.
The architectural intervention aimed at the development of an additional bedroom in place of the kitchen and the shift of the latter in way of the entrance lobby. By providing an inclination both at the new dividing wall of the kitchen and the corridor ceiling, an optical illusion was created which brings out the oblong form of the apartment. 
Το υπάρχον διαμέρισμα αποτελεί μέρος μιας πολυκατοικίας στο κέντρο της Αθήνας που δεν έχει κάποια αρχιτεκτονική αξία και το χαρακτηρίζει η στενόμακρη φόρμα του, εσωτερικών διαστάσεων 18,10μ Χ 3,60μ. Η διάταξη της δεκαετίας του εξήντα, «σπαταλούσε» τετραγωνικά μέτρα στο χολ της εισόδου, παρέχοντας ελεύθερο χώρο για τη δημιουργία ενός μόνο υπνοδωματίου.
Η αρχιτεκτονική παρέμβαση είχε ως στόχο την προσθήκη ενός ακόμα υπνοδωματίου στη θέση της κουζίνας και τη μετατόπιση της τελευταίας στη θέση του χολ. Δίνοντας κλίση στο νέο διαχωριστικό τοίχο της κουζίνας, αλλά και στο ταβάνι του διαδρόμου, δημιουργήθηκε μια οφθαλμαπάτη που τονίζει τη στενόμακρη φόρμα του διαμερίσματος.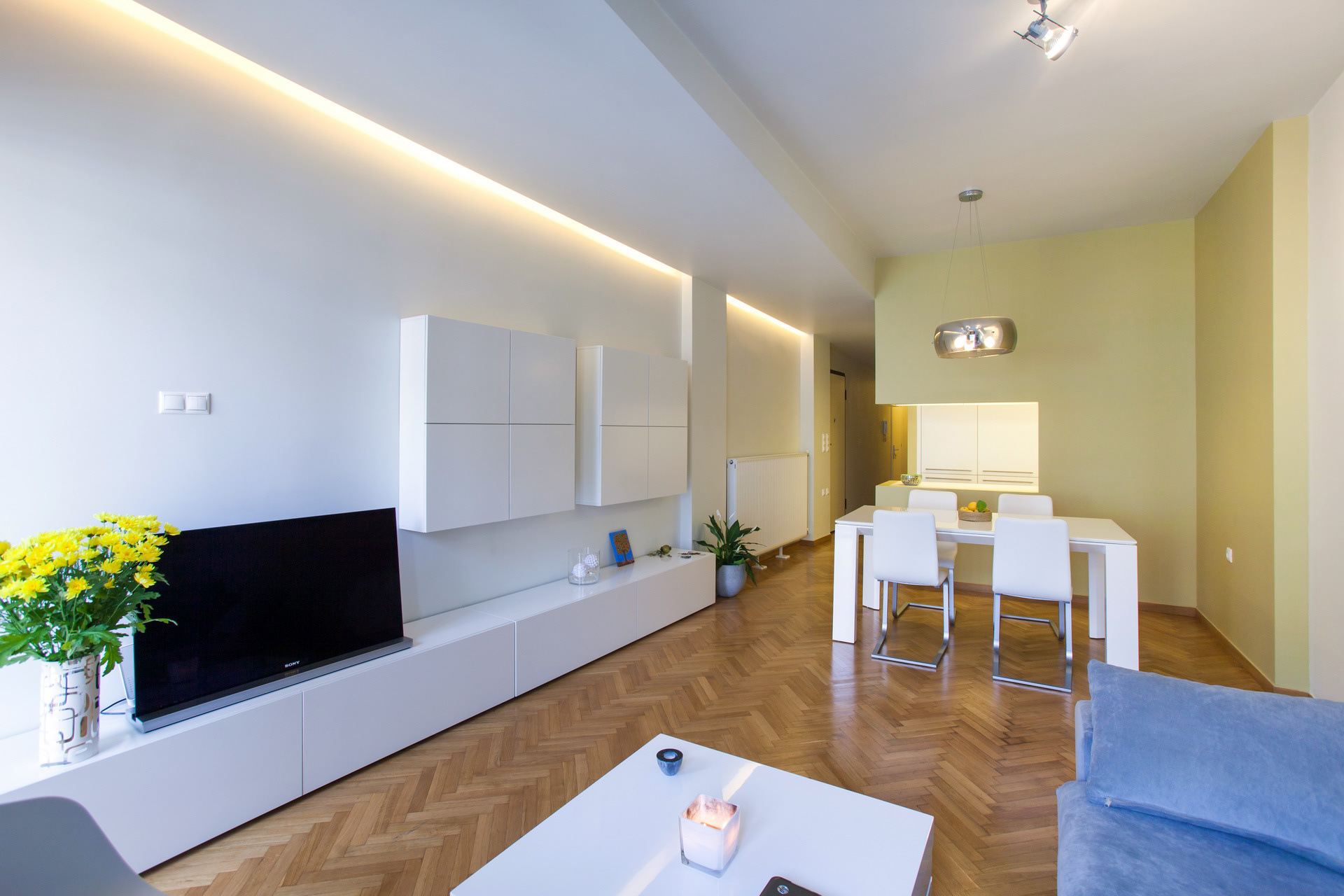 PROJECT TEAM:


Architect:

Athanasios TZOKAS


Architect:

Fotis DALIANIS
CONSTRUCTION:
Arch. Fotis DALIANIS (Dkat)